Count us among those who couldn't believe we had never heard of it.
The second release in our "Phonographic Yearbook" Series came out in the fall of 2000 and was called 1921: "Make Believe and Smile"—the subtitle taken from the sunshine-after-the-rain optimism of the Nora Bayes song, "Make Believe." The approach we had established for the series was to set the big hits of a given year against the historical backdrop of a major contemporary cultural or social event. But under new President Warren G. Harding's push for a "return to normalcy" after World War I, the year 1921 seemed like one where nothing happened.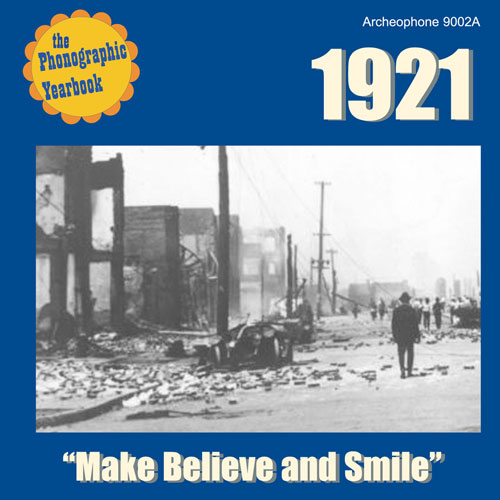 Then we chanced upon shards of information about a "race riot" in Tulsa that summer. Remember, the World Wide Web was still in its infancy and fairly primitive, but there was a growing assortment of sites describing in words and a few pictures the horrific massacre of the Black community by the white residents of Tulsa on May 31st and June 1st, 1921. A young Black man allegedly attacking a white girl, threats of a lynching, Black WWI veterans gathering at the courthouse to prevent it, and then a pogrom. Hundreds of Black citizens murdered indiscriminately, the Greenwood neighborhood—Black Wall Street—set aflame. Thousands of businesses and homes destroyed. And in the months following, Black Tulsans corralled into internment camps "for their safety" and made to clean up the devastation wrought by their white neighbors. This was perhaps the single largest massacre of Black Americans in the post-Civil War era. But even with our advanced degrees and cultural studies, it was all news to us.
Again, this was 2000. It was only the previous year, 1999, that the recently-established Tulsa Race Massacre Commission had attempted to probe Oaklawn cemetery in search of mass graves. It took another 20 years before the commission could continue their work owing to the objections of white Tulsans. Last fall, the first mass grave was located, and now efforts at identification of remains are underway.
News coverage of the hundredth anniversary of the massacre has invariably featured voices of African Americans raised and educated in Oklahoma who also "never heard of it." Cognitive dissonance and anger takes hold at the awareness of generations of cover-up, murder charges never brought, restitution denied, eminent domain, displacement and redlining and "urban renewal," and the dissection of Greenwood by the interstate highway system. The anguish felt by the survivors who were interviewed at the turn of the 21st century was so great that many of them had chosen to live their lives by "making believe and smiling."
Some of our friends and earliest customers thought we were crazy to wade into such terrible waters in making what was essentially a pop album from another era. Twenty-one years on, we stand by our decision to discuss an ugly moment of history.
Count us among those who will expose systemic racism where we find it.