If you've done any looking at period articles that discuss the rise of jazz in the late 1910s, then you're readily familiar with how serious musicians and musicologists condemned it as cacophonous noise. It's refreshing to find contrary views from that time. One such piece comes from The Musical Monitor from June 1921, citing the opinion of Baltimore-born Elizabeth Gutman, a noted folksong expert. She makes the claim that jazz is America's folk music.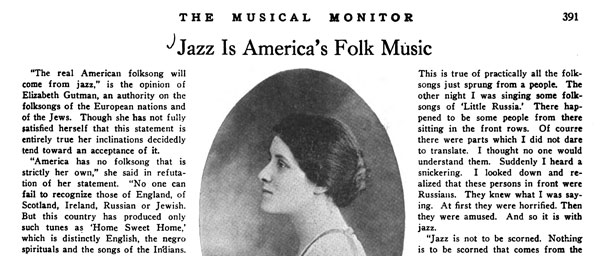 A concert soprano, Gutman's specialization was Russian and Yiddish folk songs. Her pioneering work in the field started when she met a political refugee from Russia who possessed a number of volumes unavailable on this side of the Atlantic. As a descendant of Jewish cantors, she received permission to copy the books and worked their contents into her repertoire (New York Times 13 Jan. 1918, Sec. 4, p. 8). She made seven recordings for Victor (including four unreleased trials and one rejected matrix) from 1916 through 1920. The two released numbers were made on May 29, 1918: "Main Harz Zugeiht in Mir" and "Zehn Brider," issued as Victor 72169.
Here's the piece from The Musical Monitor transcribed in full. Notice in the first couple of paragraphs a bit of resistance to Gutman's idea from the presenting editor. Also witness Gutman's complete ease with the entire world of musical expression, where there exists no moral imperatives. Finally, don't miss the part where she says she's seen the critics of jazz listen secretly to their jazz records in their homes.
Jazz Is America's Folk Music
(The Musical Monitor, Vol. X, No. 9, June 1921, p. 391)
 "The real American folksong will come from jazz," is the opinion of Elizabeth Gutman, an authority on the folksongs of the European nations and of the Jews. Though she has not fully satisfied herself that this statement is entirely true her inclinations decidedly tend toward an acceptance of it.
 "America has no folksong that is strictly her own," she said in refutation of her statement. "No one can fail to recognize those of England, of Scotland, Ireland, Russian or Jewish. But this country has produced only such tunes as 'Home Sweet Home,' which is distinctly English, the negro spirituals and the songs of the Indians. Though all of these people comprise the inhabitants of the United States, the amalgamation of all these races has produced a race which we are pleased to call 'Americans.' The one type of music they have universally adopted is 'jazz.' Jazz is distinctly an American product.
"Of course students do not approve of it and declare that it sends shivers down their esthetic spines. This fact only proves that it is American folk music. The folksongs of the other nations were not accepted by the students. They were decidedly the songs of the people, of the masses, typifying their emotions and games, sung in hours of leisure and recreation when they were free to do as they willed. Is it not so of jazz? "The great objection to jazz is that it is immoral, suggestive. This is true of practically all the folksongs just sprung from a people. The other night I was singing some folksongs of 'Little Russia.' There happened to be some people from there sitting in the front rows. Of course there were parts which I did not dare to translate. I thought no one would understand them. Suddenly I heard a snickering. I looked down and realized that these persons in front were Russians. They knew what I was saying. At first they were horrified. Then they were amused. And so it is with jazz.
"Jazz is not to be scorned. Nothing is to be scorned that comes from the people. Recently I heard a jazz band. Some of its performance was terrible but other parts were wonderful—such new, novel and beautiful harmonic and orchestral effects were excellent.
"It is popular to consider jazz one of the horrors of the times. The majority of the leading musicians denounce it bitterly when speaking for publication. But you should see them put on the jazz records when they get home. I have."
"There are many different kinds of religion. And there are many different kinds of music. We are so constructed as to demand variety. Not all of us can 'get a kick out of the French Symphony Orchestra' to borrow a phrase of Mr. George Ade. Jazz serves its purpose because it is the song of the American people.["]
View the original article as a PDF at our website.