If you've done any looking at period articles that discuss the rise of jazz in the late 1910s, then you're readily familiar with how serious musicians and musicologists condemned it as cacophonous noise. It's refreshing to find contrary views from that time. One such piece comes from The Musical Monitor from June 1921, citing the opinion of Baltimore-born Elizabeth Gutman, a noted folksong expert. She makes the claim that jazz is America's folk music.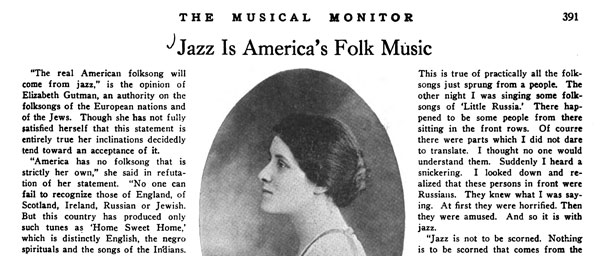 A concert soprano, Gutman's specialization was Russian and Yiddish folk songs. Her pioneering work in the field started when she met a political refugee from Russia who possessed a number of volumes unavailable on this side of the Atlantic. As a descendant of Jewish cantors, she received permission to copy the books and worked their contents into her repertoire (New York Times 13 Jan. 1918, Sec. 4, p. 8). She made seven recordings for Victor (including four unreleased trials and one rejected matrix) from 1916 through 1920. The two released numbers were made on May 29, 1918: "Main Harz Zugeiht in Mir" and "Zehn Brider," issued as Victor 72169.
Here's the piece from The Musical Monitor transcribed in full. Notice in the first couple of paragraphs a bit of resistance to Gutman's idea from the presenting editor. Also witness Gutman's complete ease with the entire world of musical expression, where there exists no moral imperatives. Finally, don't miss the part where she says she's seen the critics of jazz listen secretly to their jazz records in their homes.